At a recent Town Hall meeting at Westminster Presbyterian Church, we discussed some of the pros and cons of affiliation with the Presbyterian Church (USA).   Any discussion on this topic leads almost directly to discussion of homosexuality and gay marriage.
Though my primary task it to teach what I believe to be things that are true and profitable, I also recognize that it can also be helpful to listen to voices that teach from viewpoints that are from the 'other side' of various issues.  Over the past three decades or so, I have heard a wide range of perspectives regarding Biblical sexual ethics.  Most readers of this blog know that I hold to what may be called the 'traditional' view of marriage as revealed in Scripture as one man, one woman, one flesh, one covenant, one lifetime.    I think this definition of marriage is God's very best arrangement for the ordering of marriage and society — it is the best path toward the flourishing of the human community.     This is the definition of marriage that informs my preaching and teaching ministry.
At the Town Hall meeting, someone requested that I suggest resources for people who would like to learn more about "both sides" of the debate on gay marriage.  I said that I believe my job is to teach the orthodox view, but that I was willing to let people know about other resources to help with understanding both sides of this issue.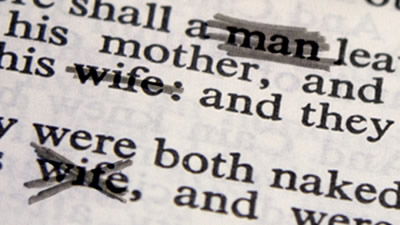 On this post I am providing information for people who would like to read more about these topics and gain a more full understanding of both sides in the debate.
Though I can't stand the labels, I will call the one side "Traditional" and the other side  "Progressive".  I hate the labels because I am not really about "Tradition" — I'm about faithfulness to God's Word and to following Jesus into the future.  The label of "Progressive" is not one I like because I don't think the advocates of gay marriage are making progress in the flourishing of the human community — I think they are moving us in a negative direction rather than moving us forward to a better future.    Progress for me is movement in the right direction and I don't think the 'Progressives' are doing this.  Yet since we are stuck with the labels, I will use them below.
I will warn you that if you are looking for simple and easy approaches to a very complicated topic — then keep watching TV and reading magazines and blogs — you will get all kinds of shallow perspectives on this debate.  If you really want to get a deep understanding of the issues, it will take a larger investment of time and you will need to listen to more lectures and read more material.
Book Recommendations:
Traditional:
Straight & Narrow (Compassion and Clarity in the Homosexuality Debate) by Thomas Schmidt
Kevin DeYoung's new book, What Does the Bible Really Teach about Homosexuality?
The Bible and Homosexual Practice: Texts and Hermeneutics by Robert Gagnon
More academic: Making Gay Okay: How Rationalizing Homosexual Behavior Is Changing Everything by Robert Reilly
Progressive:
Jesus, The Bible, and Homosexuality (Explode the Myths, Heal the Church) by Jack Rogers
Living in Sin? by John Shelby Spong
The above listed books were published before the turn of the millennium and may be somewhat out of date.  Though I have not read the following, they were suggested by a thoughtful reader of the blog:
Torn,  Justin Lee
Changing our Minds, David Gushee
God and the Gay Christian, Matthew Vines
For those interested in audio/video content — There was a very thoughtful and balanced presentation on these topics presented at Fletcher Hills Presbyterian Church last fall.  There are several lectures and Q&A Sessions that can be viewed or downloaded.  Here is the link to the series: Fletcher Hills Presbyterian Church Series on the Bible and Gay Marriage
Whether you are on the more "Progressive" or "Traditional" side of the issue, I think everyone should listen to this fascinating interview with Sam Allberry, author of Is God Anti-Gay?   presented in audio format on the White Horse Inn podcast.  Is God Anti-Gay – White Horse Inn Podcast
Though I am deeply concerned about our culture's trajectory in the area of human sexuality, I am also concerned about our culture's diminishing ability to engage in civil debate on hot topics.  So I offer this post in the hope that it can help people in the church who differ on this highly emotional topic to find ways of reducing the hostility and growing in our ability to speak the truth in love to one another – even where we disagree on vital areas of life.